OUR STORY:
My name is Bill and welcome to Blue Ash Farm! To begin, this story needs a little background about our farm. My grandparents Karle and Gertrude Rohs, owned the original Blue Ash Farm located near Cynthiana, Kentucky. When Karle died at a young age, my grandmother sold the farm and the only thing that was saved was a hand-carved wooden sign that was attached to their wooden pick-up truck. When we purchased our farm in the southwest corner of Wisconsin in 2001, we decided to call it Blue Ash Farm in honor of my grandfather who I never knew, but was an avid outdoorsman and hunter like me.  We already owned a 1950 Ford F-1 stake bed and my mother passed the BAF wooden sign on to me to put on our vintage pick-up truck. The name Blue Ash comes form the tree of the same name.  It grows abundantly in the Ohio River Valley and is scattered throughout the midwest.  It is know for its square shaped new growth when it buds out in the spring.  We have planted several honorary Blue Ash Trees at the farm but the emerald ash borer is headed our way, and the fate of the trees remains to be seen.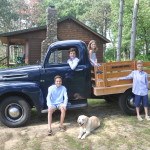 Our farm and cabin are a haven for our friends and family, away from the fast-paced city and busy life of internet and TV. It is set in the scenic Pecatonica River Valley near Argyle, Wisconsin.  At one time, it was a beautiful natural land that later was drained with drain tiles to became crop fields and eventually a pasture. We have since removed all the drain tiles to let the wetlands reclaim the land and have restored the tall grass prairie.  We have spent a lot of time and effort and a few dollars to restore the land to its natural state.  It is teaming with game and native plants. We manage the land for wildlife and enjoy hunting and fishing as well as foraging for wild foods.  There is a small orchard, and several bee hives that pollinate the orchard as well as make some of the most delicious wildflower honey.  There is always a project going on and each year the land evolves more and more and keeps getting better.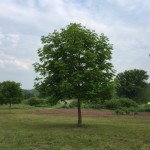 Enjoy this site and click the links to follow Blue Ash Farm on Instagram, Twitter and Pinterest, and be sure to like the Blue Ash Farm Facebook  page to keep up to date with the fun and activities and see what's cooking!  There is always a delicious meal on the menu prepared with fresh ingredients whether from my own garden, the woods, or a local farm. Most days something tasty is cooking!
O'Donnell's Blue Ash Farm is about family and friends, the outdoors, hunting, fishing, nature, chickens, bees, and hand-crafted wooden canoes! Harvest, forage, cook and dine! Join the fun!
CATEGORIES